Today, Saturday, September 14, 2019, we were searching for a way to spend a hot day without spending a lot of money. I remembered the TV travel logs about the Cistern of Houston. This water storage cave was used many years ago during the development of Houston as it grew and the needs for clean water became important. Get that….clean water… important.
Anyway, what remains today is a spectacle of wonder to behold for us. This cool cement room with a floor of water and pillars rising from floor to ceiling leaves us with a whole new appreciation. Our tour guide shared her knowledge of how Houston became more sophisticated to provide water for the growing city.
The location is surrounding by Bayou Place Park. The greenbelt park surrounds Allen Parkway and Memorial Drive with a wonderful running and walking trail, restaurants, bike rental, skateboarding and peaceful places to rest and admire the city.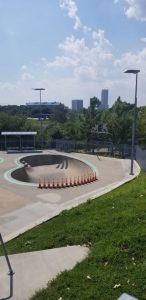 From the roof a the modern pavilion covering the entry to the Cistern, the cool breeze, shade from the summer heat, and comfortable folding chairs to position to the perfect spot for viewing of downtown Houston.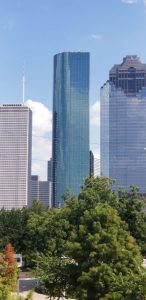 Down in the cool darkness of what was the source of clean drinking water for the growing city of Houston, is the amazing architecture of the Buffalo Bayou Partnership City Cistern.